google-site-verification: google7144747e796f7dff.html
Go to content
Main menu:
Sams Ride
is an annual very friendly, non-competitive charity Cycle Sportive
in aid of the
Samaritans of Salisbury and District
that is now recognised as one of the premier charity cycle sportives
in the Hampshire and Wiltshire region. In 2015, we had 400 riders and 2016 we had over 600. Our third event is planned for
Sunday 21st May 2017
and we are planning an even bigger and better event.
.
There are three choices of route - the
SERIOUS 100
mile ride, the
SPORTY 50
mile ride or the
SENSIBLE 25
mile ride – providing something for everyone.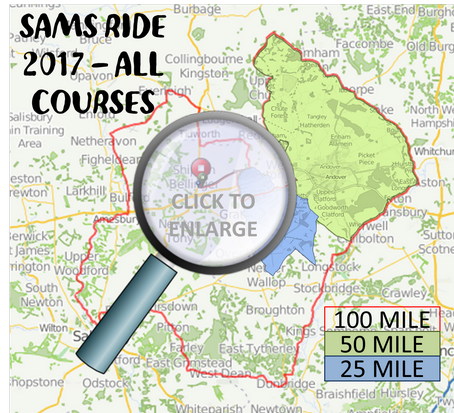 | | | | | | |
| --- | --- | --- | --- | --- | --- |
| RIDE | DISTANCE | STANDARD | UNDER 25 | BC MEMBERS | ON THE DAY |
| SENSIBLE | 25 MILES | £25.00 | £25.00 | £25.00 | £30.00 |
| SPORTY | 50 MILES | £30.00 | £25.00 | £25.00 | £30.00 |
| SERIOUS | 100 MILES | £30.00 | £25.00 | £25.00 | £35.00 |
Our Cycle Sportive includes the following:
Back to content | Back to main menu